Nexus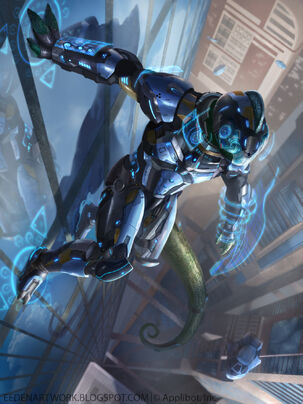 Pilot

Handle
Nexus
Real Name
<[Censored]>
Nationality
American
Ethnicity
Occupation
Lawyer
Factions
Noble Team
Location
Vancouver

Suit

Designation
Armor / Body Type
Stats

Dexterity: 6
Power: 2
Speed: 5
Durability: 1
Recovery: 6
Strength: 2

User Interface
Features
HUD

Suit Status
Advanced Suit Status
Hawkeye
Night Vision

COMM

Radio Transmitter
Defense Maze

Weapons

T3: Power Fists (Greaves)
Plasma Rifle

Defenses
Upgrades

Environmental Controls I
Storage
Cyber Brain
Uplift
Veteran Soul
Kinetic Stabilizers
Maneuvering Rockets

Nanites
The Pilot
Edit
-WIP-
Personality
Edit
Appearance
Edit
Relations & Allies
Edit
The Suit
Edit
WIP
MechAnon's version (altered in M695's adventure)
Suit Type: Light [0/200 Points Allocated]
Body Type: Hopper [10/200 Points Allocated] (Adds: +1 SPD, +1 DEX, -1 DUR)
Skates [20/200 Points Allocated]
Adhesion [30/200 Points Allocated]
Extra Arms x2 (Lateral Deltoids) [40/200 Points Allocated]
Soldier AI [50/200 Points Allocated]
Brain Implant [70/200 Points Allocated]
Suit Status [70/200 Points Allocated]
Advanced Suit Status [75/200 Points Allocated]
Hawkeye [80/200 Points Allocated]
Night Vision [90/200 Points Allocated]
Radio Transmitter [90/200 Points Allocated]
Power Fists (Greaves) [105/200 Points Allocated]
Plasma Shield x2 [135/200 Points Allocated]
Environmental Controls [135/200 Points Allocated]
Storage [135/200 Points Allocated]
Uplift [145/200 Points Allocated]
Veteran Soul [150/200 Points Allocated]
Cyber Brain [160/200 Points Allocated]
Kinetic Stabilizers [170/200 Points Allocated]
Maneuvering Rockets [180/200 Points Allocated]
Uplift [190/200 Points Allocated]
Hydra II (and by proxy I) [200/200 Points Allocated]
Dex: 6 [12 with Celerity]
Dur: 1
Pwr: 2
Rec: 6
Spd: 5 [10 with Celerity]
Str: 2
Reward from Falling Down:
Defense Maze [10/30 Points Allocated]
Plasma Rifle [30/30 Points Allocated]
+2 REC
Ad blocker interference detected!
Wikia is a free-to-use site that makes money from advertising. We have a modified experience for viewers using ad blockers

Wikia is not accessible if you've made further modifications. Remove the custom ad blocker rule(s) and the page will load as expected.