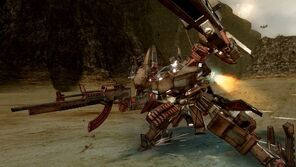 Piss off you muggy c***. I'm not in the mood for your s*** today. 
The Pilot 
Edit
Tylluan 
Valerie
Handle
Tylluan
Real Name
Valerie Hudson
Nationality
Welsh
Occupation
Author 
Factions
Armor Corps
Location

New Zealand 

Status
Active
Tylluan
Armour

Construction

Features

Tremour sense 
Skates (Tank)

Stats

Dexterity: 3 (4)
Durability: 5 (6)
Power: 4
Recovery: 2
Speed: 5
Strength: 5

Control
HUD

Hawk Eye
Thermal
Advance suit status
Radar

Comms.
A. I.
Utilities

Sub-armor plating
Maneuvering rockets
Kinetic Stabilizers
Storage
Environmental controls II

Weapons

Auto cannon x2
Missile launcher x2
Power fist

Drones

Defense

Light Shield
Armour plating

Nanites
Personality
Edit
Normally reserved, rarely dose Valerie raise her voice above a shout. She is not particually sociable prefering her own thougths to those of others, but she does enjoy looking at and recording traits of the people around her, studying them in a way. 
Valerie is an insomniac  and she often comments how "time spent alseep is time wasted". 
Appearance
Edit
Valerie is 29 years old, though she looks a lot older. She has faded ginger hair and pale, milky skin. She wears the same clothes she has wore since she was a teenager, a staple from her old life. 
Relations & Allies
Edit
Valerie is part of the Armour Corps and joined to get insparation for her work.
The Suit
Edit
Tylluan (welsh for owl) is in short a tank. Being able to switch between tank tracks and legs keeps the suit moblie and the heavy class allows it be both fast and durable. The heavy armerment allows Valerie to engage most targets and multiple foes at once. 
Suit Crunch
Edit
Class: Heavy (Tank)
-         Dex 3 (4)
-         Dur 5 (6)
-         Pow 4
-         Rec 2
-         Spd 5
-         Str 5
Features
-         Tremor sense -5
-         Skates (free tank only)
Body type
-         Biped
-         Variable -5
-         Tank-10
AI
-         Soldier-10
User interface
-         Manual -0
HUD
-         Suit status-0
-         Advanced suit status-5
-         Radar-10
-         Thermal 10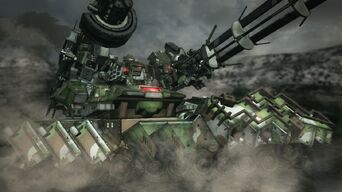 -         Hawkeye-5
Comms
-         Radio transmitter-0
Weapons
-         Auto cannon x2 -30
-         Missile launcher x2 -40
-         Power fist-15
Defences
-         Light shield x2-10
Shield link
-         Armour plating
Upgrades
-         Environmental c controls II-10
-         Storage-0
-         Collapsible I-5
-         Kinetic stabilizers- 10
-         Sub armour pistons-10
-         Maneuvering rockers-10
Nanites 
-         Hydra -10
Ad blocker interference detected!
Wikia is a free-to-use site that makes money from advertising. We have a modified experience for viewers using ad blockers

Wikia is not accessible if you've made further modifications. Remove the custom ad blocker rule(s) and the page will load as expected.